Best Websites And Apps To Watch Korean Dramas Online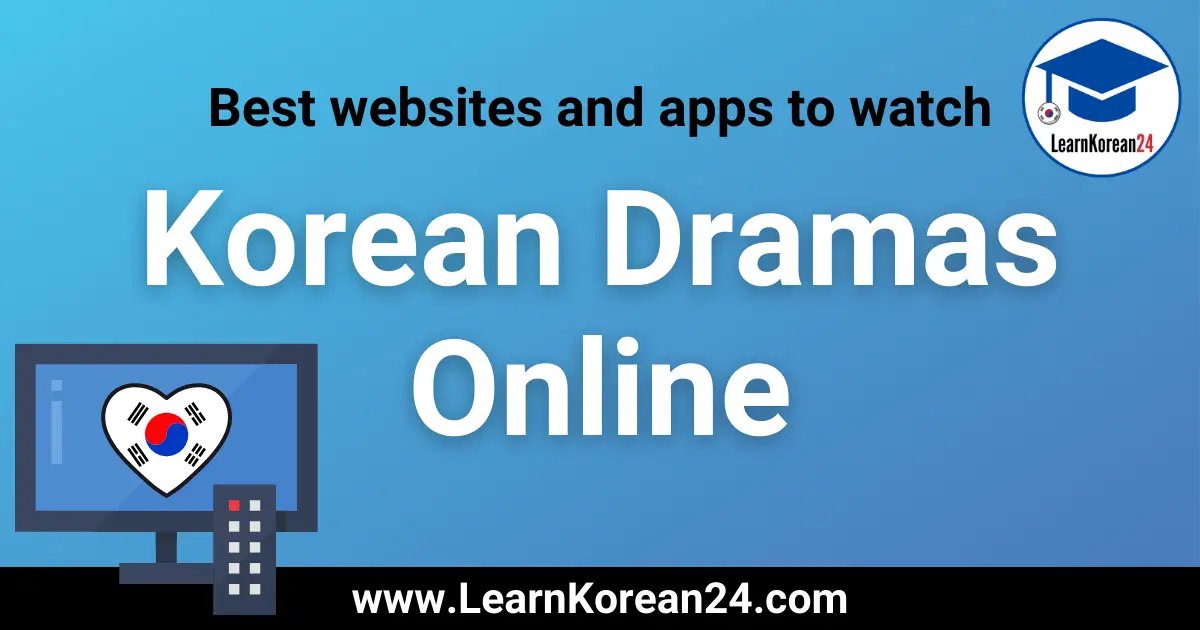 Not only are K-Dramas (Korean Dramas) incredibly entertaining, but by watching Korean dramas online you can drastically improve your Korean language skills. It's one thing to learn Korean phrases and Korean vocabulary, but hearing Korean words and expressions in context, spoken by native Korean speakers, can help you to understand their true meaning.
In this post, we have listed our favorite 10 websites and apps to watch Korean dramas online. So, if you're looking to watch Korean dramas online to help you learn Korean, or you just need a K-drama fix, keep on reading.
Where To Watch Korean Dramas Online
Top of our list of places to watch Korean dramas online is the website Viki.com. Viki has over 500 Korean dramas online and a lot of these are free to watch. While watching the K-dramas for free on this site, you will see ads. If you prefer to watch without ads there is also a subscription option that let's you watch the dramas ad-free in HD quality.
What we really like about this website is that you can select your own language subtitles for each of the K-dramas which is great for language learning. There's even an option to put on dual subtitles so you can see both Korean and your own language subtitles at once.
If you prefer to watch Korean dramas on the move on your phone or tablet, then, as they say, there's an app for that! The Viki App is available for both Android and iPhone and features all the great K-dramas that you can find on their website. Just like the website, there are some dramas that are only available if you have a paid subscription, but there are still lots of popular Korean dramas you can watch online with this app.
What we really like about this app is there is also a community section where you can talk about your favorite Korean dramas and moments with other fans of the show. This can also be a great opportunity to chat with like-minded Korean learners and practice your Korean conversation.
A list of places to watch Korean Dramas online wouldn't be complete without Netflix. In recent years, Netflix has invested a lot in Korean content and produced mega-hits like Squid Game. If the creepy doll from Squid Game is too much for you, then check out some of the other popular K-dramas such as "Strong Girl Bong-Soon", "Crash Landing On You", "Hometown Cha Cha Cha", and "Itaewon Class".
The website Kocow not only has Korean dramas you can watch online but also plenty of other TV shows, too. Like Viki, Kocowa has many free shows to watch online, but also a subscription option that features no ads and more content.
One thing to point out is that, according to their website, it is not available in all countries and is currently not available in Korea. You can check if Kocowa is available in your country here.
This next website is a great place to watch Korean dramas and movies online on-demand. OnDemandKorea is solely dedicated to Korean dramas and so you'll have no difficulty finding something to watch. Like other sites, you can watch most of the K-dramas for free with ads and there is also a subscription option. In terms of subtitles, there are some dramas missing subtitles, and some only offer English or Chinese subtitles. This is one area where we think this website could improve.
As the name suggests, this website is for those who love Asian TV and Movies. As this site covers a lot more than just Korea, its selection of Korean dramas is somewhat limited compared to websites like Viki. However, Asiancrush is still a great site to browse through Korean dramas and movies.
If you're already binged watched everything on Netflix, then Hulu is another great streaming service that includes plenty of Korean dramas you can watch online. There is no free option so you can only watch the dramas with a subscription. To find the Korean dramas on this website, simply head over to the search bar and type in "Korean"
Tubi offers a whole lot of free shows, including Korean dramas and movies. The best way to find Korean dramas on this website is to head over to their "Foreign Language" section or to simply search for "Korean". The Korean dramas on this site mostly come with English subtitles. There's also a great Tubi App for Android and iPhone so you can watch K-dramas online wherever you are.
Why Learn Korean With Korean Dramas?
If you are studying Korean one of the best ways to improve your speaking, listening, and comprehension skills is to immerse yourself in the language. The problem is that many people learning Korean are not living in Korea and may not have the chance to interact with Korean people on a regular basis. That's where Korean dramas can help.
Korean dramas provide a way for you to observe real Korean language in context. By observing the scene and following the storyline, you can more easily comprehend what the characters are saying. The more you watch, the more you will understand, and over time your listening skills will become honed to the Korean language.
Not only that, while listening to and watching Korean dramas you will likely come across words and phrases that you have previously learned in your studies. Often Korean learners learn vocabulary lists and expressions but may not know how to actually use them. Once you hear a word used in context it can help you to truly understand its meaning and how to use it yourself to make Korean sentences.
Finally, watching Korean dramas online can also help you to discover new Korean expressions that you never heard of before and which may be unique to the Korean language. For example, have you ever noticed Koreans saying "Fighting" (화이팅)? This expression is unique to Korea and something you probably wouldn't find in a textbook when learning Korean.
Related
Thanks for reading! I hope that now you know where to watch Korean dramas online you have lots of fun binge-watching Korean series and movies. Before you go, here are some related posts and resources you may be interested in: What Does Kpop Stand For / Learn About Korean Aegyo