List Of Hada Verbs | 100 하다 Verbs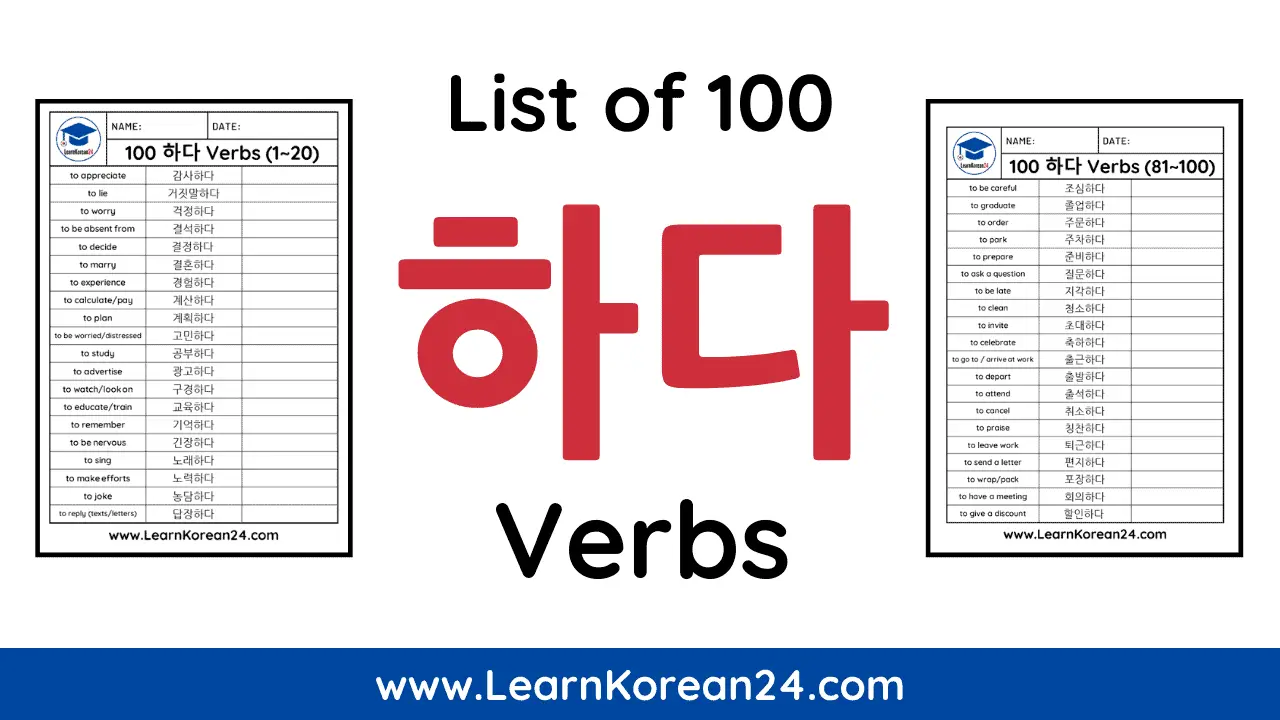 Hada Verbs (하다) are Korean verbs made up of a noun + 하다 [ha-da] which means 'to do'. Because 하다 verbs all end the same, it makes them very easy to learn and to conjugate into different tenses. On this page, you can find a list of Hada verbs with the English meaning. There are 100 하다 verbs listed below and you can also download these lists as printable PDF files to help you learn these 하다 verbs.
Related: 하다 Verb Rules
List of Hada Verbs – 하다
Here is a list of 100 'Hada Verbs' for you to learn. If you would like to check how to pronounce these words, check out the video below from our Korean teacher, Arah.
하다 Verbs: 1-20
감사하다 = to appreciate
거짓말하다 = to lie
걱정하다 = to worry
결석하다 = to be absent from
결정하다 = to decide
결혼하다 = to marry
경험하다 = to experience
계산하다 = to calculate / pay
계획하다 = to plan
고민하다 = to be distressed (due to a worry)
공부하다 = to study
광고하다 = to publicize / advertise
구경하다 = to watch / look on
교육하다 = to educate / train
기억하다 = to remember
긴장하다 = to be nervous
노래하다 = to sing
노력하다 = to make efforts
농담하다 = to joke
답장하다 = to reply (to letters or text messages)
하다 Verbs: 21-40
대답하다 = to answer
대화하다 = to talk
데이트하다 = to date
도착하다 = to arrive
독서하다 = to read books
등산하다 = to hike
말하다 = to speak / say / tell
머리하다 = to do one's hair
메모하다 = to take a note
밥하다 = to fix a meal
방송하다 = to broadcast
방학하다 = to start the school vacation
배달하다 = to deliver
비교하다 = to compare
빨래하다 = to do the laundry
부탁하다 = to ask a favor
사랑하다 = to love
사용하다 = to use
산책하다 = to take a walk
생각하다 = to think / remember
하다 Verbs: 41-60
생활하다 = to live a life
샤워하다 = to take a shower
선물하다 = to give a gift
설거지하다 = do the dishes
설명하다 = to explain
성공하다 = to succeed
세수하다 = to wash one's face
소개하다 = to introduce
쇼핑하다 = to shop
수고하다 = to work hard/take trouble
수업하다 = to take/give lessons
수영하다 = to swim
숙제하다 = to do one's homework
시작하다 = to start / begin
식사하다 = to have a meal
신청하다 = to apply / register
실례하다 = to commit a discourtesy
실수하다 = to make a mistake
아르바이트하다 = to have a part time job
안내하다 = to guide
하다 Verbs: 61-80
양치질하다 = to brush teeth
여행하다 = to travel
연결하다 = to connect
연극하다 = to act / perform
연락하다 = to notify / contact
연습하다 = to practice
예약하다 = to book
요리하다 = to cook
운동하다 = to exercise
운전하다 = to drive
외출하다 = to go out
이사하다 = to move house
이야기하다 = to talk / say / tell
이해하다 = to understand
인사하다 = to greet
일하다 = to work
입학하다 = to enroll in a school
전공하다 = to major in
전화하다 = to phone
정리하다 = to organize
하다 Verbs: 81-100
조심하다 = to be careful
졸업하다 = to graduate
주문하다 = to order
주차하다 = to park
준비하다 = to prepare
질문하다 = to ask a question
지각하다 = to be late
청소하다 = to clean
초대하다 = to invite
축하하다 = to celebrate
출근하다 = to go to work / arrive at work
출발하다 = to depart
출석하다 = to attend
취소하다 = to cancel
칭찬하다 = to praise
퇴근하다 = to leave work
편지하다 = to send a letter
포장하다 = to wrap / pack
회의하다 = to have a meeting
할인하다 = to give a discount
Related
100 Korean Verbs For Beginners
100 Korean Adjectives / Descriptive Verbs