So you've decided that you want to learn Korean but don't know where to start? In this post, we will guide you through step by step how to start learning Korean. Learning a new language can be daunting, especially when that new language has a completely different alphabet. Luckily, the Korean alphabet is one of the easiest alphabets to learn and once you've mastered the alphabet, you'll be speaking Korean in no time. So, how do you start learning Korean? Here are the steps to take to start learning Korean:
Learn the Korean alphabet.
Learn basic greetings and phrases.
Learn basic vocabulary.
Learn how to conjugate verbs.
Learn Korean numbers.
Learn about Korean particles.
Learn how to make simple sentences.
Learn basic grammar.
Practice Practice Practice
How To Start Learning Korean
Let's take a look at these steps to learn Korean in more detail, starting with learning the Korean alphabet.
1. Learn The Korean Alphabet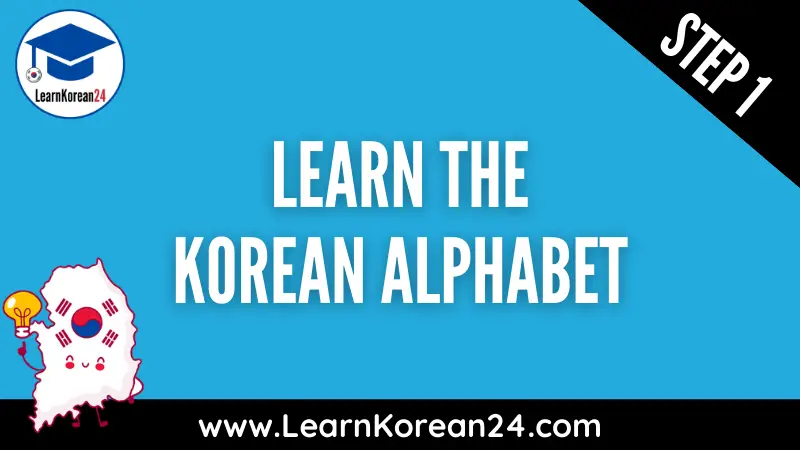 It may sound obvious, but the first step to take when learning Korean is to learn the Korean alphabet. Luckily, learning the Korean alphabet, known as Hangul (한글) is relatively easy and many people can learn it in as little as 24 hours. First, you should learn the 14 basic consonants followed by the 10 basic vowels. After that, you should learn combined vowels and then double consonant sounds. And finally, you should learn final consonant sounds known as 'batchim' (받침). Once you have learned these, you should be able to read the Korean alphabet and Korean words comfortably. Check out our complete guide to learning the Korean alphabet to complete this first step to learning Korean.
2. Learn Basic Greetings and Phrases
Once you have learned how to read Korean, the next step to take to learn Korean is to learn basic greetings. These are words and phrases such as "Hello", "Goodbye", "Sorry", "Thank You", "Yes", "No", etc. Just like in any other language, these phrases are used incredibly often in Korean. Check out these lessons on basic greetings and phrases so you can start speaking in Korean:
3. Learn Basic Vocabulary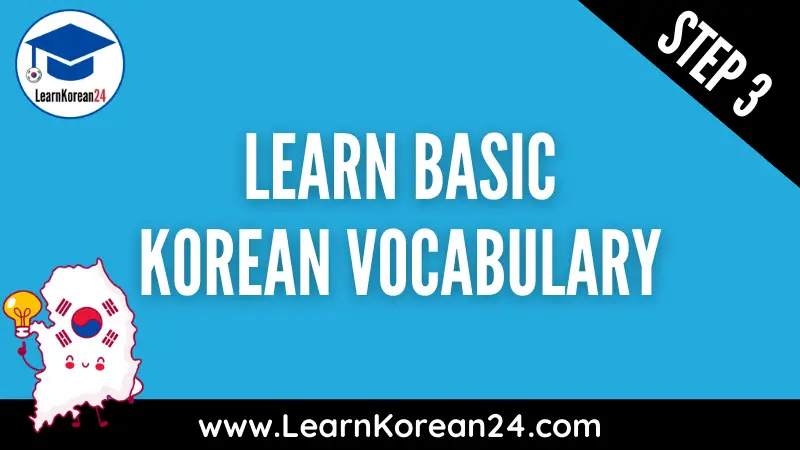 The next step to start learning Korean is to learn basic Korean vocabulary. Learning basic Korean words is a great chance for you to practice reading the Korean alphabet and Korean words. It will also be incredibly useful later on when you start to learn how to make Korean sentences and basic Korean grammar. You can find many vocabulary lists on our Korean vocabulary page, and we would suggest you begin learning the following basic Korean vocabulary:
4. Learn Korean Numbers
Learning Korean numbers may seem boring, but once you know Korean numbers, you'll be surprised just how many Korean sentences you can understand. Numbers are used when counting things in Korean, talking about money and price, telephone numbers, telling the time and date, months, and so much more. Korean has two number systems known as native Korean numbers and Sino-Korean numbers. To learn Korean numbers, check out our complete guide to Sino-Korean Numbers and Native Korean Numbers.
5. Learn How To Conjugate Verbs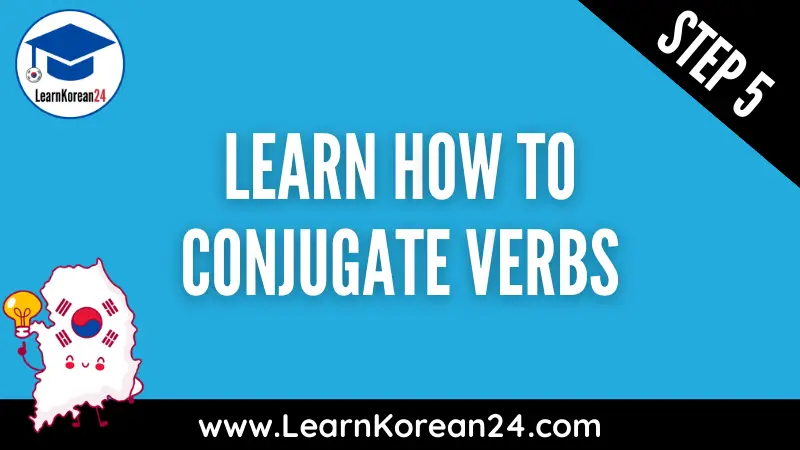 Once you can read the Korean alphabet and know some basic Korean greetings and Korean vocabulary, it's time to learn how to conjugate Korean verbs. If you're not sure what we mean by 'conjugate verbs', we mean changing the a verb from it's base form into a different form or tense. For example, in English, to make the past form of the verb 'to study' you would change it into 'studied'. We would suggest you begin by learning how to conjugate verbs into the present tense, past tense, and future tense forms.
6. Learn About Korean Particles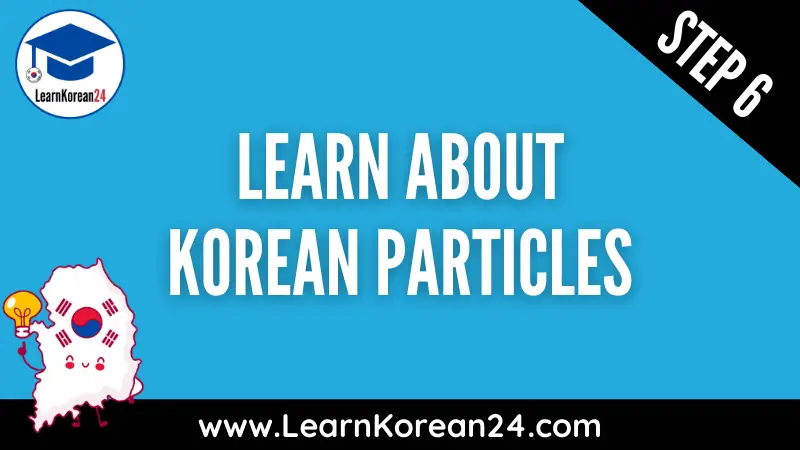 The next step is about Korean particles. Many languages, including English, do not have these 'particles' so the concept of particles may be a little difficult to grasp when you first start learning Korean. Korean particles are suffixes that usually follow nouns or pronouns to indicate a particular function of that noun/pronoun. Although there are many particles in Korean, we would suggest you first learn subject, topic, and object parking particles. Once you have learned about these particles, you can begin to construct basic Korean sentences.
7. Learn How To Make Korean Sentences
Now that you know how to read the alphabet, basic words and expressions, how to conjugate verbs, and Korean particles, you can put all that knowledge together to construct your own Korean sentences. Korean sentences are made up of a subject followed by a verb, or a subject followed by an object, followed by a verb. An important thing to remember is that the verb always comes at the end of a sentence. Learn how to make Korean sentences with this free lesson.
8. Learn Basic Grammar
The final step to start to learn Korean, is to learn some basic grammar. Once you learn some basic grammar, you can use what you learned about conjugating verbs and making Korean sentences to construct more varied sentences. You can find many free Korean grammar lessons on our Korean lessons page.
9. Practice Practice Practice
Like learning any new skill, practice makes perfect. When starting to learn Korean, practicing what you learn is essential if you are to retain the information and progress quickly. One of the best ways to do this is to talk with a Korean native speaker or to get lessons from a Korean teacher. Check out our list of places to find online Korean tutors to find a Korean speaker you can practice Korean with.